Hello everyone!!

As Shion (who seems to be quite excited about it all) posted in his blog, their upcoming live at 高田馬場AREA (Takadanobaba AREA) will be "the start of a new Velgreed".

As such, their OHP has gotten a facelift, with no new photos appearing as of yet. New look soon! :D

Their new member, bassist 遥 (Haruka), will be performing with them at this live.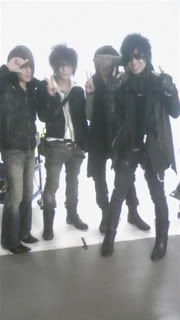 This is the only pic so far of the four of them!


Note: A bigger photo of this and the coinciding post can be found on Naru's blog.

Does anyone else think he looks sort of like Shinji from SID? xD

Good news, anyways! ♡ I hope they do well at their next live.